What types of services does my golf cart need?
Like any other vehicle, golf carts also need regular maintenance and upkeep in order to keep them running smoothly. The list of services needed depends on whether your golf cart is powered by gas or is an electric vehicle. Here is an overall list of club car components that you must get serviced regularly:
Steering and suspension: Like your car, golf carts also need their hydraulic steering fluid to be changed regularly. At Dealer's Choice Complete Car Care, we can provide specific recommendations for how often you should get your steering fluid changed, depending on how frequently you drive your golf cart. Typically, your club car's suspension does not need to be serviced unless there is damage from colliding with another vehicle or hitting an object while driving.
Tires and wheels: In order to keep your golf cart running smoothly, it is important to inspect your tires regularly for wear and tear, as well as check the tire pressure.
Brakes: Brakes are arguably the most important component of your vehicle. It is vital to get your brake fluid replaced regularly and have your brakes inspected and cleaned to ensure that they are free of corrosion.
Battery: Whether your club car is powered by gas or is an electric vehicle, the battery should be kept in prime condition. We at Dealer's Choice Complete Car Care will inspect your battery when you come in for scheduled maintenance. We will also send you appointment reminders and alert you when it is time to bring your vehicle in for maintenance.
VIVID Golf Carts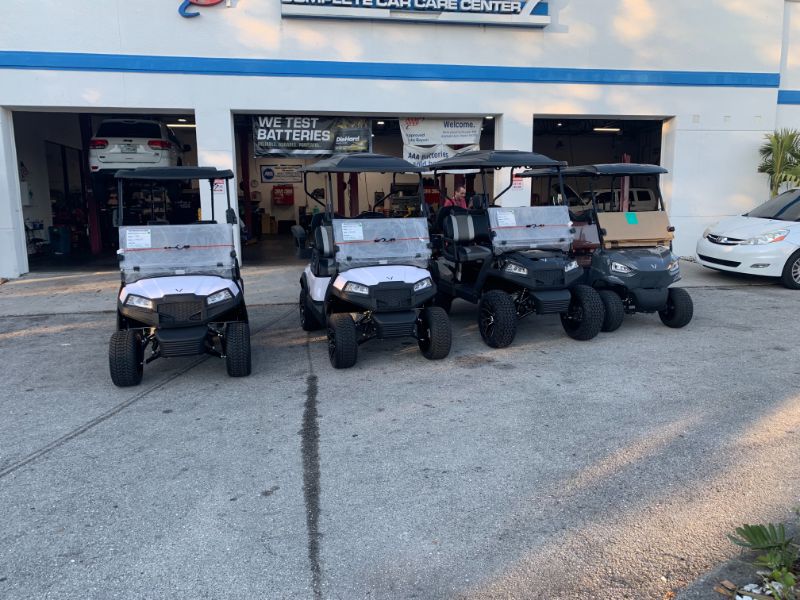 In addition to servicing any make and model of golf carts, Dealer's Choice Complete Car Care also has VIVID golf carts available for purchase. VIVID neighborhood electric vehicles are powered by lithium to pave the way for a greener tomorrow. Their vehicles can be converted to street legal cars, since they come with standard parts. VIVID neighborhood electric vehicles are compact, convenient, lightweight, and offer an open air design that you and your loved ones can enjoy.
Dealer's Choice Complete Car Care: Your Reliable Shop for Golf Cart Servicing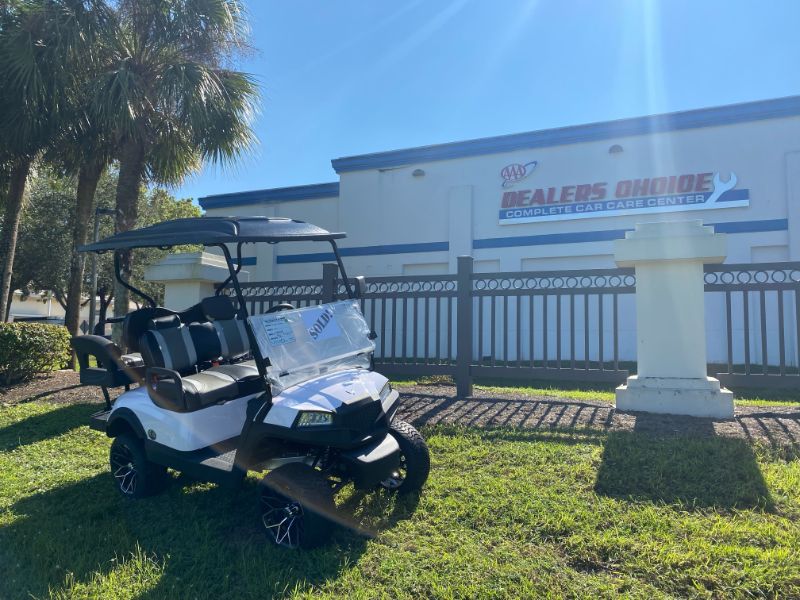 Eventually, all golf carts need to be brought in for repairs. Whatever your needs are, you can take your golf cart to Dealer's Choice Complete Car Care. We have been proudly serving residents of Bonita Springs, Florida, 34135, and the surrounding areas for over 25 years, and we make sure our knowledgeable technicians go through extensive automotive repair training. At Dealer's Choice Complete Car Care, our number one goal is complete customer satisfaction, and we will make sure your golf cart is taken care of with top-notch service efficiently and cost-effectively. Here are some reasons why we should be your local auto repair shop:
All our services come with a 12 month/12,000 mile nationwide warranty.
We offer 24-hour towing in case of an emergency.
All our technicians are ASE-Certified.
We are a BBB Accredited Business with an A+ rating.
If you are in or near Bonita Springs, feel free to give us a call at 239-390-1552 or go online to schedule an appointment at Dealer's Choice Complete Car Care today! At Dealers Choice Complete Car Care Center,our goal is to provide you expertise that you would find at your local dealership without paying dealership pricing.